– VENICE 2023: German filmmaker Julia Fuhr Mann's debut is an experimental, polemical essay film on queerness and non-normative bodies in the world of athletics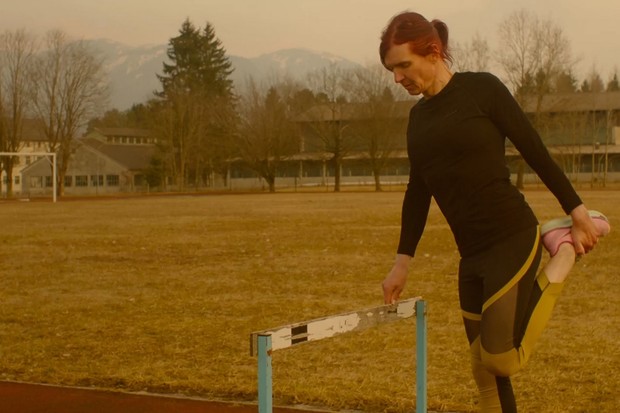 Amanda Reiter in Life Is Not a Competition, But I'm Winning
Julia Fuhr Mann is able to successfully deconstruct conventional film language in Life Is Not a Competition, But I'm Winning [+see also:
trailer
interview: Julia Fuhr Mann
film profile], a special feat when Laura Mulvey's theories of spectatorship are being discussed more than ever, as well as sometimes misinterpreted. Deploying the also modish method of the essay film, the debuting German filmmaker fluently considers queerness, gender fluidity and the forces attacking them, through the novel prism of competitive track sports; when her also impressive command of sound and composition merge with the polemic, the result is electrifying, yet other aspects, especially as the film goes on, convince less. It was one of the first to premiere in competition in the Venice International Film Critics' Week this year.
In the picture, shot elegantly in widescreen amongst the colossal public architecture of its locations, and abounding in judicious use of citrus-coloured light filters, Fuhr Mann alights on a collective of queer athletes, who purposefully aren't identified as non-professional actors, are not referred to in the dialogue by their actual names, and are not even given much dialogue to begin with. Among others, they are composed of Caitlin Fisher, Daniel Marin Medina, Chun Mei Tan and Eva Maria Jost. Instead of this, Fuhr Mann utilises them compositionally, and even sculpturally – a bulwark against the fascist roots of the Olympic Stadium constructed in Berlin, as they stand in neat formation against the empty array of fold-up seats, or are digitally composited into archive footage of previous historical wrongs in world sport. They are a warning, or a set of noble messengers from the future, we could surmise.
At its best, the content has the deep and charismatic aura of a strong graduate research presentation – a "lecture stand and PowerPoint presentation" feel. With a voice-over that eerily and intentionally evokes the automated speech when asking a word processor to "read" your article, it articulately rails against the discrimination prevalent in gender-segregated sport. The misogyny across history, like the demands and expectations on female beauty standards (from the tournament organisers to the media), is juxtaposed against contemporary sporting organisations that are themselves insidiously transphobic, and enforce dangerous testosterone-reduction therapy for female athletes considered to have an undue advantage (it uses the case of Ugandan 800-metre sprinter Annet Negesa to demonstrate this, featuring original footage shot with Fuhr Mann).
In terms of the presiding message, the filmmaker presents provocative and well-expressed points, and leaves us to sort through the various implications; still, the concept that sport is a both literal and symbolic arena where gender differences are policed and enforced comes through. "There has never been a solid framework. Cracks and voids are being revealed," the voice-over states at the conclusion. Whilst some of its formal sting subsides as Fuhr Mann's argument goes on, and it begins relying on testimony from her participants, like Negesa as well as trans runner Amanda Reiter, this is undoubtedly filmmaking right on the pulse of today's discourse, and apposite in the aftermath of the Luis Rubiales case marring Spain's Women's World Cup victory as well.
Life Is Not a Competition, But I'm Winning is a German production, staged by Schuldenberg Films, University of Television and Film Munich and ZDF. Its world sales are overseen by First Hand Films.
---
Photogallery 01/09/2023: Venice 2023 – Life Is Not a Competition, But I'm Winning
10 pictures available. Swipe left or right to see them all.