If a traditional auto show merged with CES, it'd look like this week-long event, complete with new tech, Chinese EVs, and microcars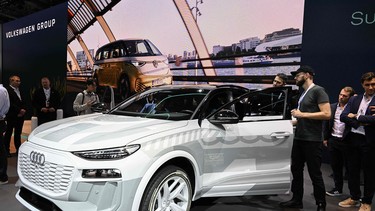 Article content
Is it a car show or is it a tech show? That's the big question being asked of shows like IAA Mobility 2023, which is taking place in Munich this week. Even prior to the pandemic, the traditional auto show model was running out of gas, with many high-profile automakers deciding their money was better spent in other ways than the hundreds of thousands of dollars required to attend a car show.
Article content
Now on the other side of the worst of COVID-19, that trend continues. However, it seems that car shows abhor a vacuum, as there is a growing trend in shows like IAA Mobility and Fully Charged Live, which makes its Canadian debut in Vancouver September 8 through 10. These hybrid events combine traditional automaker car displays with a myriad collection of auto-related booths, most of them dealing with sustainable mobility.
So, things like EV-charging solutions, e-bikes and e-scooters, electric powertrain systems, and software designed for EVs. And some rather esoteric stuff, too. I spotted this description of a small booth at the Munich show: "Generative AI-powered AV scene search." Okay.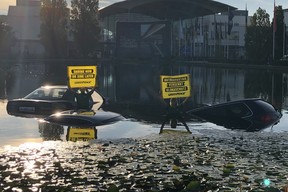 Walking the floor of the IAA Mobility show on press day, it struck me that the assembled journalist corps was not your typical automotive press. Yes, there were a few recognizable faces; however, there was also a large contingent of tech journalists milling about. And there was a noticeable lack of automaker execs — hard to miss with their sharp suits and good haircuts — replaced by casually dressed engineers and code-writers who, instead of being enthralled by horsepower and shiny objects, were geeking out on dampers, intuitive nav software, and internet-free charging alternatives.
One last thing before some takeaways from IAA Mobility: the traditional auto show hasn't taken the full count just yet, as there are promising signs that it is picking itself up from the canvas. It was just announced that the Geneva International Motor Show will return to Switzerland this coming March — oddly, the 2023 show is being held in Qatar in October — and both the Toronto and Vancouver shows are back on the auto-show calendar. It will be interesting to see if these shows start to integrate auto-related technology exhibits onto their show floors.
Article content
If this isn't an auto show, what are all these cars doing here?
It didn't take long upon entering the cavernous exhibition halls of the show to realize that, yes, there was an auto-show element to it all. There were cars everywhere. The German Big Three — BMW, Mercedes-Benz, and the Volkswagen Group — were out in force, with each having display booths worthy of the good ol' days of the Detroit auto show. The VW Group had a very large footprint, combining Audi, Porsche, and VW displays, and all three manufacturers offered food and fresh ground coffee, a sure sign of an auto-show press day.
The biggest display, however, went to Chinese automaker BYD, which, despite not selling vehicles in Europe, held a commanding presence. There is a recent partnership with Mercedes-Benz, so the expectation isn't if it will come into the Continent, only when.
Article content
There was also a handful of other Chinese automakers, including MG, which had a trio of new vehicles on display, most notably the MG4 Electric. Sadly, it isn't your father's MG, but rather a somewhat ordinary-looking crossover. Still, it's nice to see the storied marque back on the roads.
Renault, in that grandest of auto-show traditions, used the occasion to hold two global reveals: the 2024 Scenic E-Tech electric; and the 2024 Grand Kangoo. And unlike so many auto shows, Tesla was there, with the refreshed Model 3.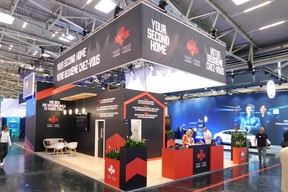 The world needs more Canada
Imagine my surprise when I turned down one aisle and came across a booth festooned with the Maple Leaf. The Invest in Canada display is intended to spread the word about our country's unique "multi-generational" opportunity. "The global electric-vehicle supply chain that will serve the world for decades is being built today," explained Invest in Canada CEO Laurel Broten. "Companies are making critical investment decisions that will shape the future of mobility and transportation well into the 21st century. And the country that has all the momentum in the world is Canada."
Article content
That opportunity lies in the fact that Canada has many of the raw materials required in the transition to an electric-mobility world, and increasingly the manufacturing might to bring finished products to market. Think of it as 'farm to table' in the EV segment. Since 2022, more than $15 billion worth of investments in the EV supply chain have been announced, as global companies choose Canada to execute on their growth plans in the North American market.
"Canada is the best place to invest in this transformative industry, because every stage of the battery EV supply chain can be located there," Broten noted. "Companies that choose Canada gain access to the world's most-highly educated workforce and secure access to markets in North America and the world."
Article content
Canada wasn't alone in networking to the global manufacturing movers and shakers, as nearby booths promoted France, Sweden, Israel, Portugal, Taiwan, and Hungary. Even Ontario had a booth, staffed by Global Plas Inc. vice-president Shah Fallahi, who was on hand to promote the Concord, Ontario company's expertise in custom injection-molding.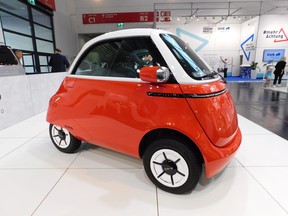 Microcars are still a thing
It's not an auto show without at least one microcar, and IAA Mobility easily passed that mark with more than a dozen of the cute-sters scattered throughout the exhibition hall. Granted, some of them were just eye candy to attract you to a booth promoting charging or software solutions, and with the small footprint they take up, it was sound logic to display one in the tiny booths.
Article content
But there were some bona fide microcar companies flogging their fun little wares. My favourite was the Microlino, by Swiss-based m-cro. Dubbed the ideal mix between motorbike and car, it's a 21st-century all-electric take on the bubble car. Boasting a range of 177 km (WLTP rating) and a top speed of 90 km/h, the two-seat Microlino Dolce can be charged, according to the company, in just four hours on a regular house outlet. But stylish fun doesn't come cheap. The list price for the Microlino Dolce is 21,190 euros, or just over 31,000 loonies.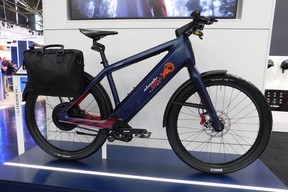 If this is the future of mobility, sign me up
It wouldn't be a mobility show without e-bikes, and IAA Mobility had plenty. Several e-bike companies had displays, including Velo, which was showing nothing but pedals, seats, and hand grips. But those with e-bikes did not disappoint, as the range in styles — from commuter to racing to mountain — was only eclipsed by the price range.
Article content
Just as I had a favourite bubble car, I had a favourite e-bike. The Stromer ST7 Alinghi Red Bull Racing special edition is just one of 350 produced in a partnership with the team contesting the 37th America's Cup next year. Designed with long-distance commuting in mind, it boasts a reported range of 260 km; a unique electronic, 12-gear shifting system; and a maximum torque output of a hill-munching 38 lbs-ft. It also offers full connectivity via cellular technology with over-the-air updates and smart extras like GPS localization, triple anti-theft protection, service reminder, Crash Alert, individual motor settings, and real-time statistics. Most importantly, it just looks so cool.
And, yes like the Microlino Dolce, it isn't for the faint of wallet, with a price of 13,499 euros, or just under $20-grand.
Article content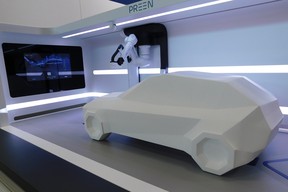 Sustainability starts at the car wash
Sustainability is at the heart of shows like IAA Mobility and Fully Charged Live, which made the Greenpeace protest in a pond outside the exhibition hall when the doors opened on press day seem a little odd. After all, it wasn't difficult to find many exhibitors with sustainable solutions to everyday, auto-related problems. The most interesting, to me at least, was a modern take by a Swiss company on the good old car wash. Preen Industries has developed a touchless car wash that uses very high-tech robotics and a unique water delivery system to not only clean your car much better than current purported "touchless" systems, but doing it by saving lots of water, soap, and electricity.
Article content
The initial step is an infrared scan of your vehicle to provide the two robotic arms a template for the path they will travel. They then spray every surface of the vehicle from just 22 centimetres away, not the two metres contemporary touchless systems employ. And the nozzles spray the water in a fast, oscillating pattern that, in the words of CEO Marc Zingg, "create little explosions on the vehicle surface to dislodge dirt and grime."
This new take on the car wash sort of sums up my experience at IAA Mobility 2023. There are a lot of very smart and committed people creating solutions to the many problems surrounding the modern automobile, and while the challenges at times seem too vast to conquer, this was the first auto show I've ever attended where I came away with hope for the future. And a bucket-list e-bike.