Schaeffler is presenting its latest innovations for the future of mobility at this year's IAA Mobility show in Munich, with highlights including new drive technologies, improved chassis systems, and ingenious technical solutions for reducing friction. 
In a world-first, Schaeffler and VDL Groep are presenting a demonstrator model of a self-driving electric shuttle designed for public transport. The two companies plan to develop and produce the vehicle jointly, with Schaeffler contributing its strengths in drive and chassis technology.
Major investment in e-mobility production capacity worldwide
Schaeffler is doing well commercially from its highly diversified position in the electromobility market, offering solutions for everything from e-cargo bikes to electric aircraft, and technologies ranging all the way from electric motors to thermal management. In 2022, the company's E-Mobility business division secured series-production orders valued at five billion euros, taking to 16 billion euros the cumulative value of orders won by the division since its establishment in 2018. "The key to our success here is our profound understanding of both complete systems and the individual components that go into them. Taken together, that's a very large market for us," said Schaeffler AG CEO Klaus Rosenfeld.
Schaeffler has key strengths in electric motors
Schaeffler has key strengths in passenger car electrification, particularly in electric motors. The company makes a wide range of motors for both the premium segment and the mass market. Its offering here includes asynchronous motors and permanent-magnet synchronous motors, as well as axial-flux motors for sports cars. Schaeffler also develops and makes magnet-free electric motors – known as externally excited synchronous machines. "This year alone we are launching a total of seven e-motor projects for our customers. That shows our products are hitting the mark," said CEO Automotive Technologies Matthias Zink. 
The 4in1 e-axle also integrates the vehicle's thermal management system
No one type of motor can handle all power classes and applications – which is why Schaeffler has a diverse, modular approach to electric motor development. "To produce this diverse range as cost-effectively as possible, we develop the electric motors and their production processes simultaneously," Zink said. "In doing so, we are playing to our core strengths in industrialization." The process innovation pipeline will see he company invest over 500 million euros in new and expanded production capacity worldwide by 2026. This is the secret to Schaeffler's ability to industrialize climate-friendly drive technologies rapidly and – crucially – cost-effectively.
Schaeffler clocking up series-production startups
Electromobility and automated driving are areas in which Schaeffler is clocking up a growing number of series-production startups for its innovative technologies. For example, the company's rear-wheel steering system has just gone into production in a big-name automaker's new electric SUV. This series-production startup, a first for this product, will be followed by six more in the next few years. 
Schaeffler rear-wheel steering system has gone into production in a big-name automaker's new electric SUV
Schaeffler is also bringing its highly integrated thermal management module for electric cars onto the market this year. With this innovation, EVs, in particular, benefit from Schaeffler's expertise in the precision management of heating and cooling. The company's thermal management solutions improve battery performance and life and allow all components to operate within their optimal temperature range. Further series production startups are scheduled for this integrated thermal management solution in 2024. In 2023, Schaeffler likewise saw its innovative Free Drive pedal generator for electric cargo bikes go into fleet-scale production. As the core component of a new chainless drive system, Free Drive reduces maintenance and wear and opens the way to completely new bicycle architectures.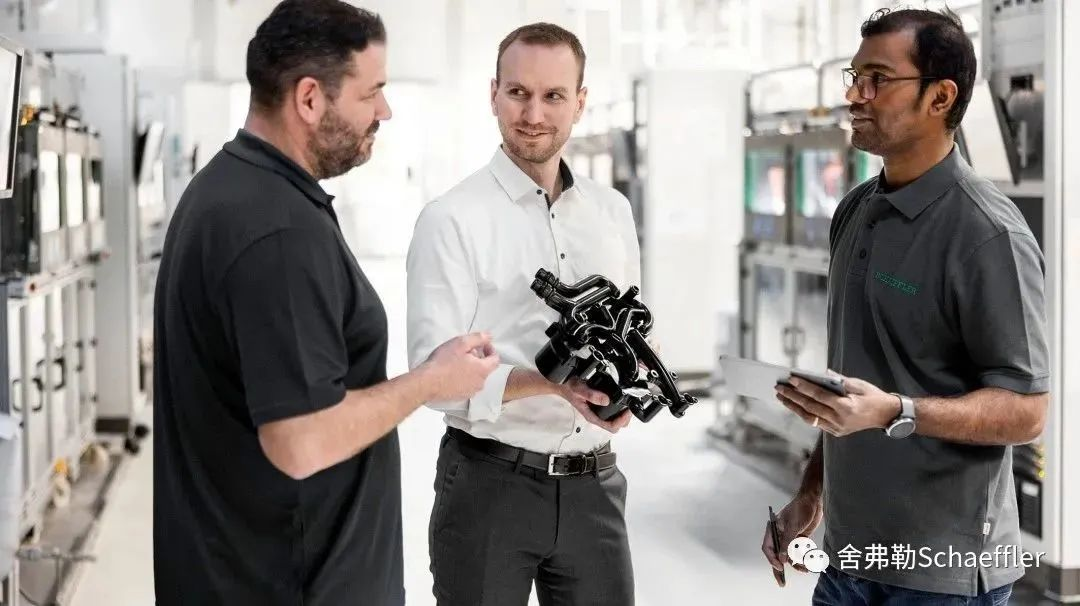 Schaeffler is bringing its highly integrated thermal management module onto the market this year
Schaeffler is also bringing its electric wheel hubs into series production in 2023 – for three manufacturers of municipal works vehicles at once. Back in 2022, Schaeffler launched its eRocker system – an electromechanically switchable finger follower system for variable valve control. Combined with electric cam phasers, this system reduces CO2 emissions in hybrid vehicles by about ten percent. And for 2025, the company has announced the series startup of its silicon carbide-based 800-V power electronics.