New Mercedes-Benz concept electric vehicles (EV) boasting a 466-mile range and next-generation advanced driver assistance systems (ADAS) were among the early announcements made ahead of this year's International Motor Show (IAA) Mobility conference.
Mercedes revealed prior to the Munich, Germany event that it has developed a drivetrain that can outlast Tesla and travel 248 miles on a single 15-minute charge. Tesla's top range is 405 miles; its vehicles can last up to 200 miles on a 15-minute charge.
Mercedes said its concept CLA Class, which encompasses four new models, is close to production and also includes:
Low-energy LED lights including an animated star pattern pair with an expansive glass roof;
A new Mercedes-Benz Operating System (MB.OS) that "uses supercomputing and artificial intelligence to facilitate new level of personalization, safety, convenience and automated driving;" and
Child presence detection (CPD), which it described as a "sophisticated safety feature" that mitigates the risk of children being accidentally left in hot vehicles.
"The Concept CLA Class is the forerunner for an entirely new all-electric segment of entry-level vehicles at Mercedes-Benz," said Ola Källenius, Mercedes' CEO. "The range will comprise a total of four new models — a four-door coupe, a shooting brake and two stunning SUVs — each with significantly elevated product substance.
"This new model family is inspired by a generation of car buyers who want that unmistakable Mercedes-Benz feel, with more features, even greater comfort and safety and the most advanced technology."
In elaborating on its new MB.OS, the automaker said it will offer drivers an "unparalleled user interface and user experience," that includes a super screen incorporating advanced real-time graphics.
To achieve its leading edge in EV range, it said it maximized efficiency by driving down losses in its 800-volt electric drive system and utilized "innovative battery cell chemistry."
The automaker also touched on its use of sustainable materials throughout its new line, including nearly carbon-free steel and carbon-reduced aluminum.
"I am certain that our MMA platform will enable us to offer our customers in this market segment a class-defining combination of performance, sustainability, safety, and comfort paired with an outstanding digital experience," said Markus Schäfer, Mercedes' chief technology officer.
Ford quietly hinted at its own shifting strategy last month while submitting a trademark request with the U.S. Patent and Trademark Office for the name F-200.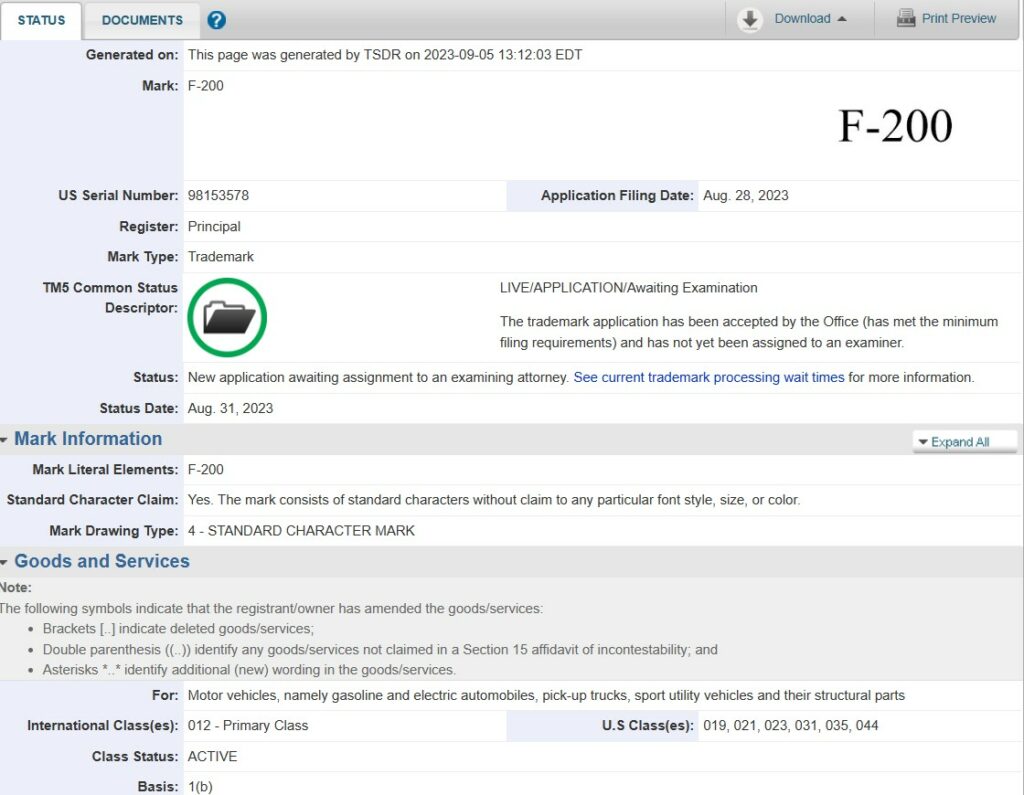 "Trademark applications are intended to protect the phrases, designs, and symbols that identify Ford's products and services," a Ford spokeswoman told Repairer Driven News. "We routinely file trademarks in the normal course of business but they aren't necessarily an indication of new business or product plans."
She did not address queries seeking information on why it was seeking to trademark the name, and which products might fall under it. However, its Aug. 28 trademark request suggests a new vehicle is being added to its F-series pickup truck line.
Meanwhile, Mobileye and Valeo announced a new partnership ahead of the IAA Mobility conference to develop "best-in-class" imaging radars for next-generation ADAS and automated driving features.
The companies said in a joint release that their new technology will improve sensing systems for more advanced hands-off ADAS solutions and eyes-off automated driving features on highways and city streets.
"Mobileye's imaging radars use advanced architecture, including Massive MIMO (multiple-input, multiple-output) antenna design, a high-end radio frequency design developed in-house, and high-fidelity sampling – all enabling accurate object detection and higher dynamic range," the press release said.
"Thanks to an integrated system-on-chip design that maximizes processor efficiency, and world-leading algorithms for interpreting radar data, the imaging radar delivers a detailed, four-dimensional image of surroundings up to 300 meters away and beyond. With a 140-degree field-of-view at medium range and 170-degree field-of-view in close range, the radar enables more accurate detection of pedestrians, vehicles or obstructions that other sensors might miss – even on crowded urban streets."
The companies said that Valeo, which has been developing and mass-producing radar technologies since 2006, will lead the system design of the new imaging radar product. It will do so by integrating Mobileye's imaging radar technology, corresponding software, and algorithms — which are embedded in the Mobileye Radar chipset — into Valeo's automotive software and hardware radar solutions.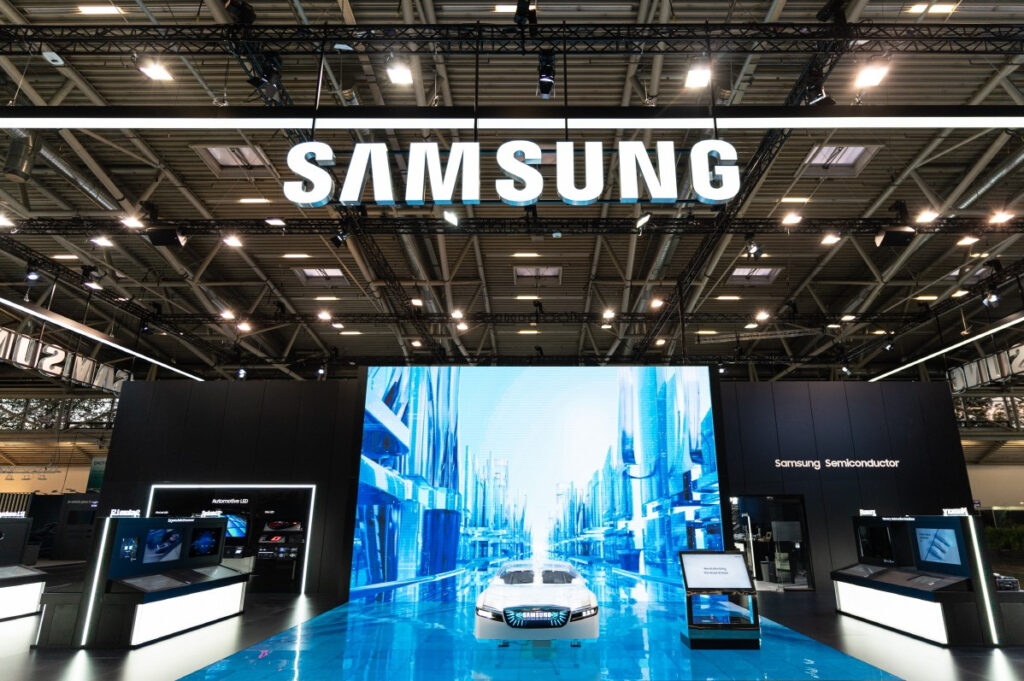 Samsung is also attending the IAA Mobility conference to share information about its automotive offerings that it said will "redefine the landscape of connected mobility." It said it plans to showcase its:
Suite of memory solutions that can be used for high-capacity systems like infotainment and ADAS;
Processor and sensor portfolio, including in-vehicle infotainment systems, 360-degree car vision, and monitoring systems to detect unsafe driving conditions like fatigue or distraction;
"Advanced and highly customizable" lighting solutions for future electric and autonomous vehicles that will help automakers create smaller lamps with "precise and selective" lighting control;
Organic light-emitting diode (OLED) technology that Samsung says can significantly improve driver visibility in dark environments; and
Battery solutions for future EVs include all-solid-state batteries, nickel manganese batteries, and lithium manganese iron phosphate batteries.
"IAA MOBILITY 2023 serves as an unparalleled platform for us to demonstrate the collective strength and commitment of our individual businesses, built to revolutionize the automotive industry through our expansive suite of semiconductor technologies," said Dermot Ryan, president of Device Solutions Europe, a division of Samsung. "Our shared vision is to collaboratively craft safer, more sustainable and profoundly interconnected automotive experiences for customers and communities worldwide."
Volkswagen Group announced Monday that its brand Elli, among Europe's largest e-mobility providers, would promote its new charging products and services during IAA, including its Flexpole charging station.
"This easy-to-install and flexible fast charging station with an integrated battery storage system can be connected to a low-voltage grid without a special transformer or costly construction work," Volkswagen said. "The Flexpole's two connectors can deliver fast-charging speeds at up to 150 kW which can deliver up to 160 km range within 10 minutes, depending on the vehicle."
As one of Europe's largest e-mobility service providers, Volkswagen Group's brand Elli will showcase new charging products and services as well as unveil its future plans at this year's International Motor Show (IAA) in Munich. Elli will also give a sneak peek at upcoming energy innovations and its transition to providing holistic energy solutions.
At the heart of Elli's IAA product presentation is the Flexpole. This easy-to-install and flexible fast charging station with an integrated battery storage system can be connected to a low-voltage grid without a special transformer or costly construction work. The Flexpole's two connectors can deliver fast-charging speeds at up to 150 kW which can deliver up to 160 km range within 10 minutes, depending on the vehicle.
"With the new Flexpole and the continued expansion of Elli's charging network to more than 540,000 charge points, we are quickly and reliably driving forward e-mobiliy's expansion. Elli is already one of the largest e-mobility service providers in Europe. But, customers aren't just interested in quantity – and that's why we're focusing much more on the holistic charging experience," explains Elli CEO Giovanni Palazzo in Munich.
Among other areas Elli plans to highlight is Selected Partner Network, a premium European charging point network with "optimal charging stops, high-performance charging infrastructure" and convenience shops like restaurants and restrooms.
"Innovation in the charging and energy industry is key to e-mobility's success and the decabonization of our society," said Giovanni Palazzo, Elli CEO. "In the future, Elli will focus more on the EV battery as a critical energy storage solution that gives us more independence from fossil fuels and the fluctuating availability of renewable energies. We call this the 'battery under management' strategy.
"Our goal is to become a software-driven energy company and a leading provider of holistic energy solutions."
Images
Main and secondary images: Renderings of Mercedes' conceptual CLA Class/Courtesy of Mercedes-Benz
Ford trademark application courtesy of the U.S. Patent and Trademark Office
Final image courtesy of Samsung
Share This:
Related