A CAMPSITE on the edge of a Quantock Hills beauty spot could rapidly expand to accommodate the growing workforce at the Hinkley Point C nuclear power station site.
Terry Ayre operates Moorhouse Campsite, in Holford, which lies just off the A39 near the north-eastern edge of the Quantock Hills Area of Outstanding Natural Beauty (AONB).
Mr Ayre has applied to expand the campsite to provide 115 new caravans for a three-year period to allow Hinkley C workers to live within easy reach of the construction site.
Somerset Council is expected to make a decision on the proposal by Christmas.
The new pitches would be created at the eastern edge of Moorhouse Farm, with access on to an unnamed road which links the A39 to Stogursey.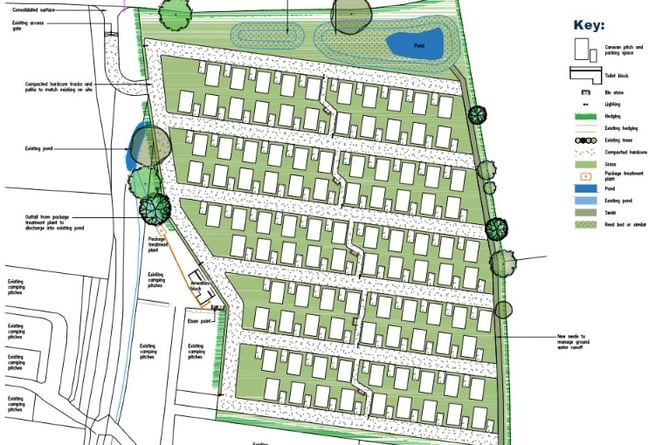 Plan showing how 115 new caravans would be accommodated at Moorhouse Campsite, Holford. (Across)
A new ablutions block would be built in the centre of the wider campsite, providing toilets and showers, including one with disabled access, for the workforce.
A smaller number of pitches for Hinkley Point C purposes was previously set aside at the campsite's northern edge, with temporary planning permission which was secured in 2018 and then extended.
Planning agent Laura Wall, of Acorus, said: "The site has been operated by the family, and provided accommodation for Hinkley Point workers, for a number of years.
"It has been well-received by workers and EDF Energy, which operates Hinkley Point C, and has set the principle for the site to be used for such purposes.
"Given there appears not only to be a need for additional worker accommodation over an extended period of time but also that the Moorhouse Farm site is a named site in the EDF considerations, it is suggested that there is reasonable and clear need for the proposed development.
"There would be no overall effects on the landscape character of the area and no effect on the integrity of the AONB or its setting.
"Visual effects would be limited to gaps in the vegetation from the surrounding road and footpath network, primarily at close proximity."
About 8,600 workers will be needed during the peak of the Hinkley C construction programme, 3,000 more than originally predicted.
EDF Energy is implementing various measures to mitigate the 'worker uplift', including providing affordable homes in Nether Stowey, expanding its existing campuses in Bridgwater and on the site itself, and increasing the number of pitches available at several local campsites.
Three campsites were identified by EDF to deliver at least 360 new pitches between them to accommodate 470 workers – Mill Lane Camping and Caravan Park, in Fiddington, Quantock Lakes, in Nether Stowey, and Moorhouse Farm.
The former Sedgemoor District Council approved plans for a further 58 pitches at Mill Lane in March, with Quantock Lakes expected to provide about 100 additional places based on proposals teased in September, 2022.