The finishing straight of the IAA Mobility: The world's biggest mobility trade fair runs until 10 September. At the Open Space in the centre of Munich, Porsche is celebrating '60 Years of the 911' with an unusual sculpture.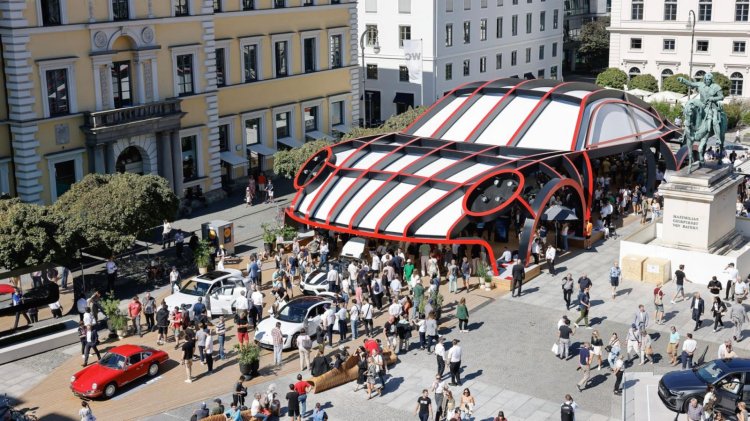 As a background for selfies or simply an imposing model on an XXL scale, the huge silhouette of the 911 that spans the exhibition space on Wittelsbacherplatz has been a crowd favourite during the first days of the IAA Mobility. The reusable roof construction is an homage to the sports car icon. Exactly 60 years ago the 911 celebrated its premiere at the IAA.
Instead of 'driving in its most beautiful form' – the Porsche leitmotif for 60 years – the current motto on Wittelsbacherplatz is 'celebrating in its most beautiful form'. Over an area of around 1,000 square metres, Porsche has created a family party atmosphere, with mascot Tom Targa entertaining the youngest car fans with games and journeys of discovery. Children and adults can either get a snapshot in a photo box or pose for a Polaroid taken by one of the hostesses. The photos are then available to download with a QR code, or as instant pictures there and then. The Open Space from Porsche is also part of the VDA Family Trail, and children can collect stamps at various stations here.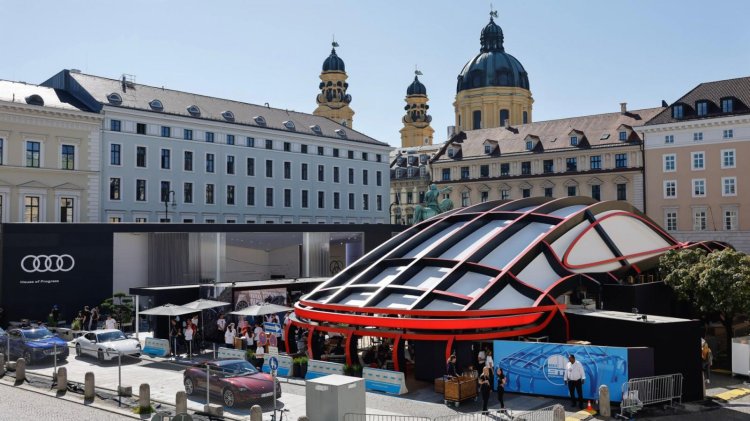 The on-stage programme consists of two alternating series: 'Brave New Love' informs viewers about the latest innovations, the sports car brand's path to a sustainable future, and many other topics. '911 Love Stories' centres around the car whose birthday is being celebrated. Its latest variant, the special 911 S/T model limited to 1,963 units, is being shown to the public for the first time at the Open Space. Another crowd favourite over the first days of the trade fair has been the Porsche Mission X. This spectacular concept study is the new interpretation of a hypercar, with Le Mans-style doors that open up and forward, and a high-performance, efficient electric powertrain.
With the Mission X, Porsche is providing a foretaste of an electric future. Meanwhile, many IAA visitors and Munich residents have been accepting an early opportunity to try out the E-Performance of the present, via a fleet of Taycans at the trade fair stand that are available for accompanied test drives. Interested visitors can book a drive in advance on the Porsche Test Drive page or in person at the Porsche Test Drive counter. And visitors who don't just want to get around in a very environmentally-friendly fashion, but also fancy doing a little sport themselves, can take a ride on one of the Porsche eBikes.